The 10th Planet Jiu-Jitsu phenom grappler Kay Hansen (5-3) finds the thrill between fight anxiety and excitement within fights.
Hansen will be featured on another tournament card as she faces Liana Pirosin (7-3) in a strawweight bout tomorrow night at Invicta FC's Phoenix Series 3 bantamweight tournament.
"Some people don't like to talk about it. Some people are scared. I don't know, I'm scared sh-tless before I fight, but once the bell rings I'm fine," Hansen said. "Beforehand, I'm sh-ting bricks and I'm f-cking scared – I want to cry. I want to hide and not move when I'm in the locker room."
"The emotions go away once the bell rings, after that your body knows, 'alright it's go time, you can't back up now.' I think your brain likes to look for ways out before you get into the cage. Once I'm in there and they lock it, that's it, it's go time."
Hansen headlined as the co-event against Magdaléna Šormová at Phoenix Series 1 and defeated Carolina Jimenez in a flyweight tournament reserve bout. Tansen vs Pirosin will be the sole strawweight bout contest at Phoenix Series 3, after the cancellation of Amber Brown vs. Sharon Jacobson.
There's no insight into what a fighter's mind contemplates within the build-up, as they await their names to be called. Although the body overrides the mind once fighters are locked in the cage, the mind wonders before walkouts.
"When you're back stage, you see a lot of emotions. You can tell the fighters are kind of antsy, because they are watching who they are going to fight next," Hansen said. "It's really cool what Invicta FC has spear-headed."
"Being an alternate fighter, it's crazy because you're watching every fight super close – hand speed, if someone gets cut pretty bad and they can't continue, or if someone gets arm-bared and hurt their arm."
"Fighting comes with so many emotions, especially when you're fighting on UFC Fight Pass. Fighting gives you so much anxiety, there's nothing like it," Hansen said.
"I feel like I'm going to puke. I hate it and love it at the same time. I can't even describe what it does to me. It freaks me out, that's probably the thrill of it."
"I won't have any chance to be in the tournament. It's different because you just sit back and have fun and watch it unfold. With the flyweight tournament, I won so I had a chance of being in a bout if someone couldn't continue."
"After you fight, you had to go back in the locker room and you have to keep your gloves on, you have to keep your hair in and stay warm. You can't really eat nor celebrate yet. You might be thrown in, so you got to stay on your toes."
The 20-year-old remembered when she got cut by Kalyn Schwartz in her second pro fight. She received many negative messages and fans saying things about her on Twitter and Instagram.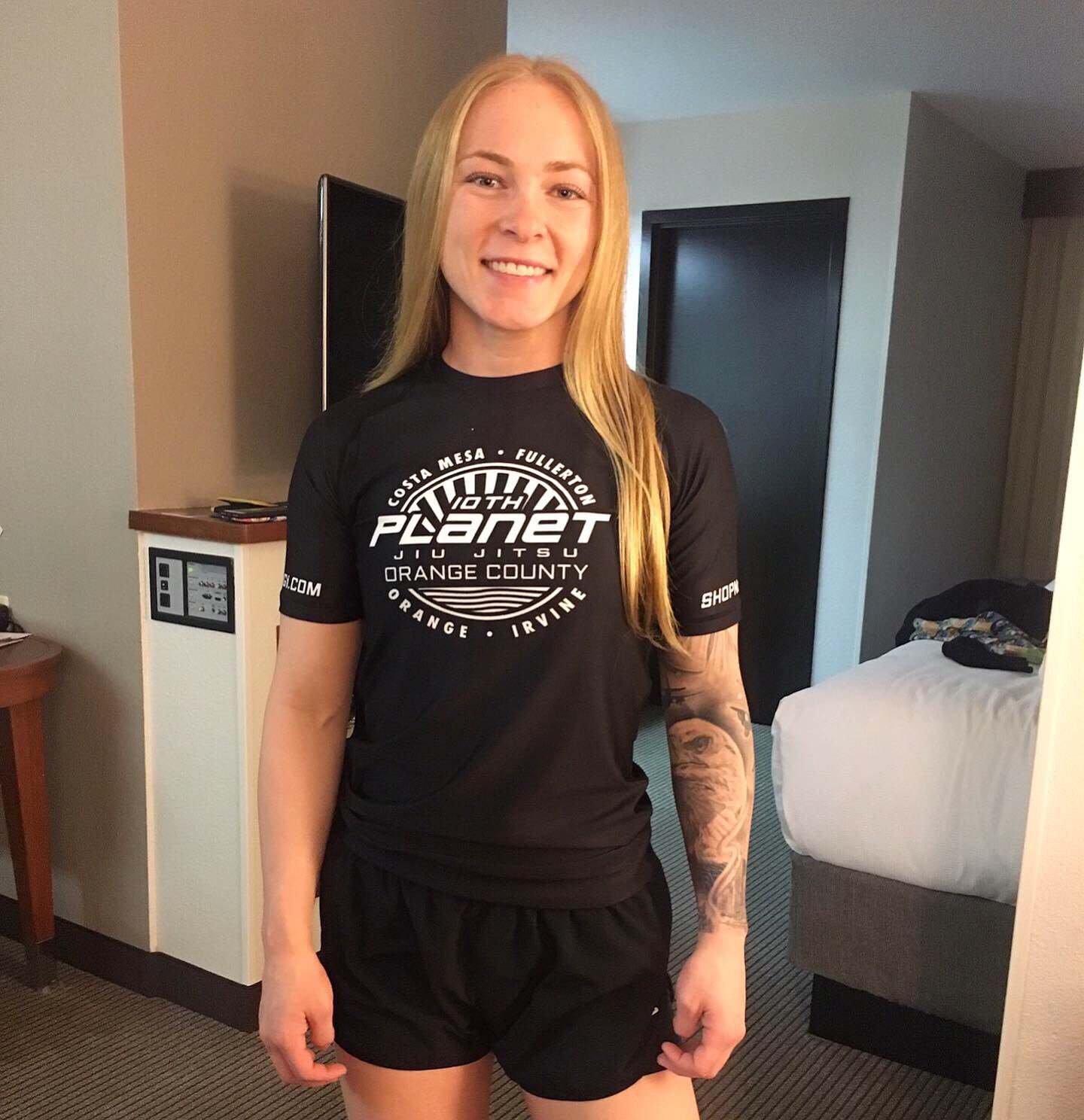 "At the end of the day, yes we are fighters and fighting in front of crowds, but we are also people. I was an 18-year-old pro. You have a lot of bright lights on you, you have a lot of eyes and judges on you. You don't want to let yourself down nor your team down. You don't want to embarrass yourself, and every time you step in that cage – you gamble."
Many young fighters are placed in the prospect category, but Hansen's ground game and jiu-jitsu resembles to an All-American or a grappler that has collected gold medals at an international grappling stage.
Two years of professional fights, and yet it seems that the Invicta FC flyweight has been on the scene longer than her pro record sheet suggests.
"Being a prospect puts a shadow over you with all the questioning of, 'well she's so young so I don't think she's ready.' People are going to talk no matter what," Hansen said. "When you're on the older side with more experience, people would say that they are too old."
Hansen is coming off of a neck-crank third round victory over Nicolle Caliari at Invicta FC 37.
Anxiety may take over before fights, but Hansen's performances have proven to be above the prospect notion.